Availability:
International
White labelling available?
Yes.
Always a best seller at festival season. This is the ideal gift for revellers - an entire camping set in a tin.
Music festivals are fun... until the rain falls.
This kit contains everything you need when you're off to a festival - whether you're slumming it in a tent or going posh in a hotel down the road. Don't let discomfort ruin the fun.
Waterproof poncho
Keep the rain off your clothes. Nothing dries out in a field!
10 tool multi-tool
Cut, pick, clean, saw... or just open your bottles with it.
Disposable ear plugs
The headliners are worth listening to. The drunks in the tent next door are not.
Disposable toothbrush
Those festival treats do bad things to your enamel.
Marvis toothpaste
Well, you never know when you'll want fresh breath...
Ideal for co-branding and event specific customisation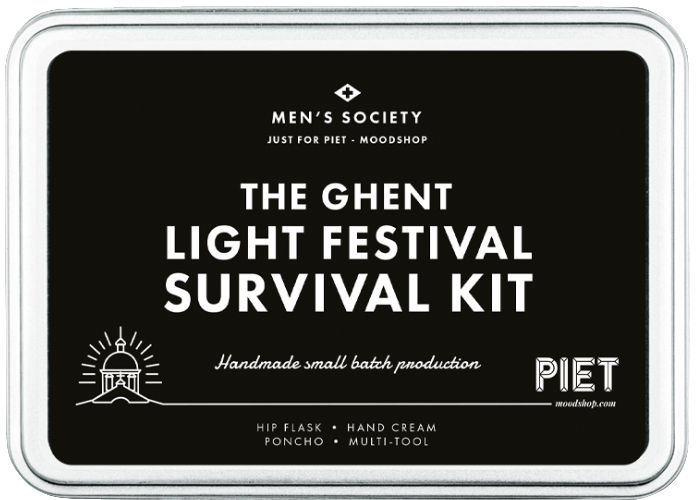 The Festival Survival Kit lends itself perfectly to co-branding, own-branding and customising for specific events. We were approached by the Piet Moodshop in Ghent (a brilliant client of ours who we've been working with since 2015) to create a kit specifically for the popular Ghent Light Festival. Although the Festival Survival Kit was initially concieved for the muddy fields of Glastonbury, not the pinturesque scenery of Ghent, this was the perfect kit to base our design on.
The toothbrush, toothpaste and ear plugs were replaced by a hip flask and hand cream. Our award-winning design team integrated the iconic Saint Nicholas's Church into the design and Piet's logo complimented the whole thing beautifully.
If you've got an event coming up that you think could benefit from the souvenier value of having its own gift set, please click here to send us an email and we'll talk about what our team could do to help you.